Something About Company
About CBN
Statement of CBN Core Mandate
The mandate of the Central Bank of Nigeria (CBN) is derived from the 1958 Act of Parliament, as amended in 1991,1993,1997,1998,1999 and 2007.
The CBN Act of 2007 of the Federal Republic of Nigeria charges the Bank with the overall control and administration of the monetary and financial sector policies of the Federal Government.
The objects of the CBN are as follows:
ensure monetary and price stability;
issue legal tender currency in Nigeria;
maintain external reserves to safeguard the international value of the legal tender currency;
promote a sound financial system in Nigeria; and
act as Banker and provide economic and financial advice to the Federal Government.
Consequently, the Bank is charged with the responsibility of administering the Banks and Other Financial Institutions (BOFI) Act (1991) as amended, with the sole aim of ensuring high standards of banking practice and financial stability through its surveillance activities, as well as the promotion of an efficient payment system.
In addition to its core functions, CBN has over the years performed some major developmental functions, focussed on all the key sectors of the Nigerian economy (financial, agricultural and industrial sectors). Overall, these mandates are carried out by the Bank through its various departments
Our Mission, Vision and Core Values
CBN Vision
"Be THE MODEL CENTRAL BANK delivering PRICE and FINANCIAL SYSTEM STABILITY and promoting SUSTAINABLE ECONOMIC DEVELOPMENT."
Mission Statement
"To be proactive in providing a stable framework for the economic development of Nigeria, through effective, efficient, and transparent implementation of monetary and exchange rate policy, and management of the financial sector."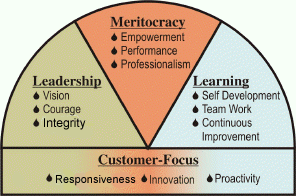 Core Values
Our core values of Meritocracy, Leadership, Learning and Customer-Focus are to guide the behavior of both management and employees of CBN towards the achievement of the Bank's vision. It should be these shared standards that are dear to us, which guide our daily interactions, decisions, plans and implementations. No one, from Governor to Office-Assistant should be in doubt as to what our values are and every execution of their duties should fully reflect those values.
0 Review
Rate This Company
( No reviews yet )
This company has no active jobs